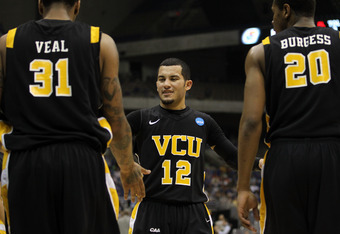 Sometimes, mistakes can be good. The chocolate chip cookie, for example, was invented by mistake. I think most people would agree that was a good mistake. Mistakes can turn out well, but that doesn't mean it wasn't still originally a mistake. I mention this because yesterday, VCU beat Kansas to go to the Final Four. VCU was an 11-seed that had to actually win a 'play-in' game just to be the 11-seed. Despite VCU's amazing run, there's no arguing that putting VCU into the tournament based on their resume was a mistake.
The committee who selects the tournament teams has said for years that all that matters is the team's resume for that season. Injuries and suspensions are factored in, but only to determine how good or bad a team is without said player. This is why despite BYU's gaudy record and fairly strong resume that they were the three seed in their region behind Florida. BYU had to dismiss their second best player, Brandon Davies, for breaking the BYU Honor Code. The committee determined that without Davies, BYU did not deserve to be ranked ahead of Florida. Injuries, player dismissals and suspensions are a grey area, and can create some confusion on Selection Sunday, but ultimately it's important that the committee factors that in. Of course, the committee does this with team's that are already into the tournament, and the injuries/suspensions/dismissals just effect the seeding of a team. Getting into the tournament is based on a full season of consistency, or at least being less inconsistent than a few other bubble teams.
The fact is putting VCU into a play-in game based on their resume to that point was a mistake. It turned out well, and everyone loves an 11-seed making a run to the final four, so it's been great to watch for the majority of college basketball fans. I'm sure Kansas fans would disagree, but I'm also sure Kansas fans are convinced they would beat VCU 49 times out of 50. Count me among those.
I'm growing tired of seeing experts and fans alike saying "VCU proving they deserved to be in this tournament" or something along those lines. VCU did NOT deserve to be in the tournament, but they do deserve credit for taking advantage of the opportunity presented to them, and they deserve even more credit for making Kansas look like the mid-major yesterday.
But again, the committee's job isn't to put in the 68 most talented teams in the country, or the 68 teams with the best chance to win a national championship. If that was the case, the Minnesota Golden Gophers would have been in the tournament. They were great early in the season when Al Nolen was healthy, and they beat UNC fairly convincingly without DeVoe Joseph. The team was ranked as high as 11 at one point this season. But then Nolen got hurt and the team collapsed down the stretch, not even making the NIT. However, Nolen would have likely returned for the opening round of the tournament, and that would have made the Gophers a much better team than their resume would suggest.
However, the fact was the Gophers didn't do enough over the second half of the season to deserve an NCAA tournament bid. Nobody would ever argue differently. VCU obviously had a better resume than the Gophers, because pretty much everyone did, but the Gophers were just an example. Just because a team
could
make a run, or just because a team
does
make a run in the tournament does not change the fact that Alabama, Virginia Tech and others had better resumes than VCU.
Obviously, VCU has exceeded everyone's expectations, and it's made for great entertainment. Whether the committee made a mistake or not, VCU clearly has played exceptionally well. I'm not writing this to belittle VCU's amazing run, but rather to hopefully put a stop to people consistently referring to VCU as a team that "clearly deserved to be here." They did not deserve to be in the tournament. That is a fact. But sometimes even obvious mistakes at the time turn out better than anyone could have hoped. VCU is just the latest example.