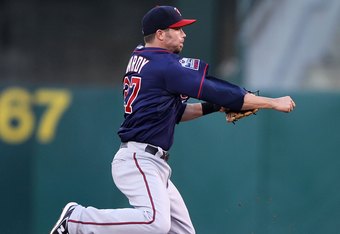 JJ Hardy has been a hot topic lately for anyone writing about the Twins. The Twins have a tough decision to make, or so it would appear. After trading Carlos Gomez for Hardy at about this time last year, many people expected Hardy to have a much better season in 2010 than in 2009, and therefore it appeared as if the Twins would have Hardy for two years. His final year of arbitration is in 2011, so the Twins technically have a few options.
First, they could simply offer him arbitration, in which the team would ultimately put in a 'bid' for Hardy's 2011 salary and Hardy's agents would put in another 'bid' and each side would argue their case. Whoever presents a better case wins. However, most arbitration cases never get that far; both the team and player will propose a number and the team and agents will almost always meet in the middle. This helps avoid a very awkward situation, in which the team that wants to keep said player is actually talking negatively about his abilities to get him cheaper for the next season. It's avoided whenever possible, so the more likely scenario if the Twins did indeed decide to keep Hardy for one more year is that they'd simply agree on a number between about $5.5MM and $7MM. This was my assumption in the payroll post, and I put Hardy at $7MM to just be safe. The team could also decide to offer Hardy a long-term deal, but I think it's unlikely they'd commit $7MM a year over the next three years to someone with Hardy's injury history and his inconsistent stretches last year. They'll at least want to see a full, healthy season of JJ before trying to lock him up.
So, that brings us to the question everyone has been asking: Should the Twins bring JJ Hardy back next season?
My original thought was simply that the Twins have been so incredibly below average at shortstop over the last decade that even another repeat performance by Hardy was likely to be significantly better than whoever his replacement was. I wasn't thinking about the payroll, other possible trades, or even who the other free agent shortstops are. I simply was thinking 'Well, the Twins always screw up middle infield decisions, so hopefully they take Hardy's average play and keep him.' Remember, with Hardy making $7MM next year, I currently have the Twins projected payroll at $101.6MM and likely a spending cap of about $120MM. Even bringing Hardy back wouldn't hinder the team's ability to bring in another piece, especially if they don't foolishly waste money on a 'veteran starter' when they have much cheaper and likely better options throughout the system.
Now, just because the Twins have the payroll flexibility to make some moves finally doesn't mean that they should spend it foolishly. If the team feels they can get about 90-95% of the production from someone else for even 25% of the cost, that might be a good business decision to make. If the team could replace Hardy with a $2MM shortstop, they'd have even more money to play around with. Let's look at how good Hardy was last season compared to the rest of the league's shortstops.
JJ hit .268/.320/.394, good for a .714 OPS. That number seems low, and extremely poor for a starting caliber player, but his .714 OPS was actually just barely above the league average at his position. In 2010, the average major league shortstop (using only players who got enough at bats to qualify for the batting title) hit .266/.322/.391, good for a .713 OPS. In other words, Hardy's season was as close to 'average' offensively as he could be. However, Hardy dealt with a wrist injury for part of the season, and even attempted to play through the pain from May 25 until June 4. He hurt the wrist on a slide in a game on May 4, and spent the next 3 weeks on the DL. When he came back, the wrist had not yet healed, and during that two week stretch while playing hurt Hardy hit just .139/.184/.167 in just under forty at bats. His terrible slugging percentage during that time being below his on-base percentage is an even bigger sign that his wrist was giving him problems because he wasn't able to drive the ball at all. He only had five hits during that time; four were singles and the other was a bloop double. He simply didn't hit anything hard. The Twins decided to put him back on the DL, this time taking their time to ensure he came back healthy and ready to play.
If you take away that small stretch, Hardy actually hit .283/.335/.421 in just over 300 at bats. A .756 OPS would have placed Hardy fourth in baseball among shortstops. Of course, this was the second season in a row Hardy dealt with a wrist injury, so it's definitely a possibility that this injury nags at him each year and he continues to miss games and struggle at times. It's also possible that the Twins finally gave Hardy enough rest to allow the wrist to heal properly. That's up to the team doctors to decide, but if I had to guess I would assume he has a clean bill of health.
So, if you assume Hardy's wrist injury did in fact play a part in his terrible two week stretch from late May into early June, his offense alone clearly makes him worth the $7MM. A full season of Hardy at .283/.335/.421 while likely hitting near the bottom of the lineup would be an enormous boost for an offense that was very good last season and will be getting Justin Morneau back as well. But if you don't agree that it was the wrist injury that forced Hardy's struggles, then the decision is a little tougher. If we expect him to match 2010's numbers, posting a .714 OPS, his defense plays a big part in whether he's actually worth such a large commitment in 2011.
Using UZR, which I would agree has some flaws but in my opinion is the best defensive stat available, Hardy posted a 12.8 UZR/150. Again, that means Hardy saved almost 13 runs over the average shortstop over 150 games. Had Hardy played a full season, he was on pace to lead all shortstops in UZR. Hardy has historically been a very good defensive shortstop despite lacking even average foot speed, so last season's 12.8 number isn't likely to be an outlier in this situation. He's been above a 6 every year of his career, and posted a UZR/150 of 14.5 in 2007. He is a very good defensive player and should continue to be next season.
If Hardy does simply post the same numbers he did this year, over a full season though, he's worth $7MM. An average offensive shortstop and elite defensive one make Hardy one of the better shortstops in the league. The fact that a lot of people, including the Twins front office, feel that Hardy will be even better next season with the wrist injury behind him makes it seem like a no-brainer to keep Hardy.
If Hardy posts something similar to his non-wrist injury .283/.335/.421 line with his stellar defense yet again, Hardy is likely to be a top three shortstop in baseball, which would make his salary an extreme bargain for one year. The only real issue is whether Hardy will be able to stay healthy for a full season, and if the Twins doctors deem him healthy and ready to go, there's no doubt in my mind that the Twins should and will bring back Hardy for the 2011 season. Fans will cringe upon first seeing Hardy's stats and then his salary for next season, but when compared to other players at his position, Hardy grades out very well and the trade that sent Gomez for Hardy last year at this time looks even better now.
See you in 2011, JJ.