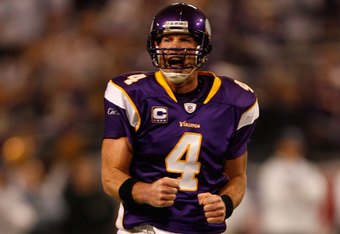 With my lack of sleep this weekend (first weekend back at college and I live three blocks from pretty much every bar) and the fact that classes started today, my brain has been on an extended vacation all day. I asked my twitter followers for some ideas... and a fellow blogger, Derek Wetmore*, had a great idea. We would tag-team an idea he had been given, each taking a side. Who would win more games this coming season, the Vikings or Timberwolves? I love both teams, and am one of maybe 50 Wolves fans left in the state, but I will be arguing in favor of the Vikes, while Derek will take the Wolves.
*I went to high school with Derek. He's a couple years younger than me, but he's already far far ahead of me on the writing spectrum. He's a writer for the MN Daily, writing articles and doing some blogging for them. His most recent piece over at the Daily covers the impressive freshman running back for the Gophers, Donnell Kirkwood. He also writes his own blog, Wet Socks, and does a great job. If you don't read him yet, start. Now. Click the links, this post will still be here when you get done.
It seems silly to think a football team, playing 16 games, could realistically win more games than a basketball team playing 82 games. Since the AFL-NFL merger in 1970, only two teams have gone undefeated over the regular season. Those two teams would be the most overrated team in the history of sports, the 1972 Miami Dolphins, who went 14-0 in the regular season and then won all three playoff games to finish the season with 17 wins and the 2008 New England Patriots, who went 16-0 in the regular season and won their first two playoff games before losing perfection on a
fluke play.
The NBA as we know it today didn't really start until 1976, when the NBA and ABA merged. The most games the Vikings could win this season is 19, and while that's all but impossible, that's a best-case scenario so we'll start with that. Since the NBA/ABA merger, though, 34 teams have won less than 19 games over a full season. Keep in mind there were only 50 games in 1998, so that data wasn't used. Those teams, from oldest to most recent, are:
1979 Detroit Pistons
: 16 wins
1980 Expansion Dallas Mavericks
: 15 wins
1981 Cleveland Cavaliers and San Diego Clippers
: 15 and 17 wins
1982 Houston Rockets
: 14 wins
1986 Los Angeles Clippers
: 12 wins
1987 Los Angeles Clippers
: 17 wins
1988 Miami Heat
: 15 wins
1989 New Jersey Nets, Expansion Orlando Magic and Miami Heat
: 17, 18 and 18 wins
1991 Minnesota Timberwolves
: 15 wins
1992 Dallas Mavericks
: 11 wins
1993 Dallas Mavericks
: 13 wins
1994 Los Angeles Clippers
: 17 wins
1995 Vancouver Grizzlies and Philadelphia 76ers
: 15 and 18 wins
1996 Vancouver Grizzlies and Boston Celtics
: 14 and 15 wins
1997 Denver Nuggets, Toronto Raptors and Los Angeles Clippers
: 11, 16 and 17 wins
1999 Chicago Bulls and Los Angeles Clippers
: 15 and 17 wins
2000 Chicago Bulls and Golden State Warriors
: 15 and 17 wins
2002 Denver Nuggets and Cleveland Cavaliers
: 17 wins each
2004 Atlanta Hawks, New Orleans Hornets and Expansion Charlotte Bobcats
: 13, 18 and 18 wins
2007 Miami Heat
: 15 wins
2008 Sacramento Kings
: 17 wins
2009 New Jersey Nets and Minnesota Timberwolves
: 12 and 15 wins
From 1976-2009, not counting the strike-shortened season of 1998, there have been 34 teams to win less than 19 games. That's basically one team a season. Now, three of those teams were expansion teams, and since this year's Wolves team obviously isn't an expansion team, I'd say the more correct number for this question is 31 teams. 31 non-expansion teams have won less than 19 games over the last 34 years (33 seasons, though).
Of course, the Vikings won't win 19 games. Counting the post-season, the Vikes went 13-5. Without going into a game-by-game explanation (this post will be long enough) I have the Vikings winning 12 games in the regular season yet again. Some fans will undoubtedly say that's too high, because there's no way Favre plays at the same level he did last year, but I think AP will have a much better year so it should at least even out the inevitable decline that Favre has coming. A prediction of anywhere from 10-14 wins I could get on board with, so just meeting in the middle at 12 seems fair. I have the Packers at 11, giving the Vikings the division and the bye, meaning one less opportunity for a win.
I also have the Vikings getting to the super bowl. If they win 12 games, then take care of business in the divisional round and NFC Championship round, they'll be sitting with 14 wins. However, they are the Vikings, so I can't in good conscience predict a super bowl victory. I think they'll lose in the super bowl, continuing the heart ache that comes with being a Vikes fan. That gives them 14 wins.
How in the hell will the Vikings possibly win more games than the Wolves with only 14 wins? The Wolves won 15 games last year, with a group of young players and veterans that are nothing more than end-of-the-bench players at best. It's hard to fathom them actually getting worse this year, especially considering they had three first round picks and one of those picks was in the top 5 yet again.
It's actually pretty simple. Jonny Flynn, who was below average last year in his first year in the league, is out for about four months with a hip injury. That means the Wolves starting point guard will be Luke Ridnour, with his backup at the moment slotted to be Sebastian Telfair. Yes, that Telfair, who's best season in the NBA is about on par with most teams third point guards. Ridnour had a fantastic season last year in Milwaukee, but unfortunately a lot of his shooting percentages saw a drastic spike from his career norms. That's almost always a sign of a fluke season, regardless of age, but as a 29-year-old entering his 8th season in the league, there's plenty of past evidence to suggest that Ridnour is going to end up being not only an overpaid backup for the next four years, but a pretty terrible starting point guard for at least the first half of the season. Flynn + Sessions seasons last year will prove to be much more productive than Ridnour + Telfair and half a season of Flynn coming off a serious injury.
The Wolves last year had the worst wing situation in the league. They could have signed the Lynx backcourt this off-season and I would have had no problem with someone saying that's an upgrade. Wayne Ellington showed flashes as a rookie, but nothing suggested he would become more than a 7th or 8th guy in a rotation and he'll probably be strictly a 3-point shooter over his career. Corey Brewer continues to get overhyped because he was drafted 7th overall, but despite being consistently referred to as a lock-down type defender, he's been among the league's worst defensive wings in basketball. His shooting during January and February got a lot of hype, but as is often the case, he fell back down to his career averages over the last two months of the season and his shooting percentage of 43% last year is poor.
Unfortunately for Wolves fans, Kahn upgraded the wing situation probably as little as one could do given the assets we had. With three first round picks, cap space, and Al Jefferson all available to improve the team, Kahn failed. Wes Johnson was the best wing available at #4, no doubt, but the wings taken in the middle of the first round aren't much worse as prospects. Kahn should have drafted Cousins, let Darko go back to wherever he came from, and then kept Luke Babbitt at 16. I think Babbitt has the potential to be as good as Wes Johnson offensively. Kahn and company continue to hype Wes Johnson's defensive ability, but considering he's coming from zone-happy Syracuse, and Kahn hyped Flynn as a lock-down defender before last season, I don't have much confidence in that actually being true.
Trading Babbitt for overpaid Martell Webster was bad, but Kahn's explanation was even worse. He said his play has improved every time he's been given 30+ minutes. Portland's front-office had to be laughing when they read that. Martell Webster came off the bench most of his career. Portland has one of the deepest wing rotations in the league, and due to that, the only time he'd be getting 30+ minutes a game is when he's playing well. If he's playing poorly, Portland would simply take him out and put in one of their 9000 young wings to replace him. Webster's defense will be better than what the Wolves had last year, and his shooting should be a lot better than Brewer's, but unfortunately Webster isn't a huge scorer, so while Webster will be an upgrade from Brewer, he's still a well-below average starter.
I have no idea who the Wolves plan to start at the 3 this year, but it's looking more and more like it'll be Michael Beasley. I don't have any problem with him getting a shot at the 3, because this is a lost year and it's worth finding out if Beasley has a future on this team. However, Beasley should not be taking minutes from Kevin Love, and I fear that's exactly what's going to happen as the year goes on. Love is among the 20 or 25 best players in the league, and if he's given 35-40 minutes a night like he should be everyone will see that. Unfortunately, Rambis seems content giving him 30 minutes at best, and my guess is Beasley will split his time between the 3 and the 4. He's been terrible at the 3, and average as a 4, but the scoring potential is enormous with him so the Wolves will absolutely give Beasley a ton of minutes to find out just what they have.
Darko starting at the 5, with a fresh, four-year contract? He's going to be as motivated as me at 8 AM on a Monday morning. I might even be more motivated than he's going to be.
I think trading Al Jefferson for draft picks and cap space was needed, because Jefferson isn't someone you build a championship team around, but he's better than every other big guy not named Kevin Love that the Wolves have, and giving his minutes to Darko is going to be a huge drop off, even with Al's down year.
Ultimately, the Wolves are going to be really, really bad again. If Rambis plays the right people and Kahn can turn a few of the remaining assets into a player for this season, the Wolves should win 20+ games. Despite the talent level improving, I have major doubts about Rambis ability to use the right players in the right situations, and last year's odd decision to force feed the triangle offense to a team that clearly wasn't suited to run it has me questioning Rambis' coaching ability altogether.
I expect the Wolves to start out terribly, Kahn and Rambis will blame Love's conditioning on his lack of minutes and the relationship will be even worse than it is now, and the Wolves ultimately will be a non-factor in Minnesota sports news for another season. While I don't want the Wolves to lose 70+ games this year, if it gives us the best shot at one Harrison Barnes, then by all means, lose and lose often.
My prediction:
Vikes 14-5, Super Bowl loss
Wolves 13-69, and hopefully Kahn's dismissal