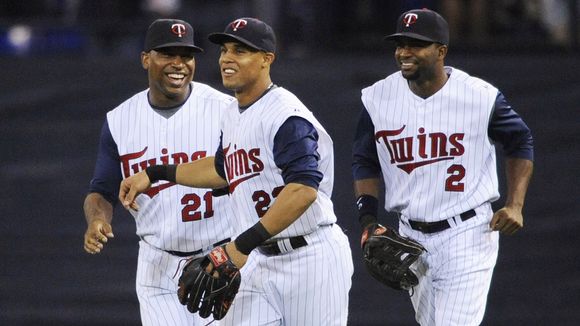 This morning started like every other morning... with my bladder screaming at me to wake up while I tried to sleep for an extra few minutes. Eventually I did indeed listen to my screaming bladder and I woke up. As I looked through my e-mails, I had a random email from someone who has clearly read this blog in the past. The subject was simply 'Please link me to you eating your words about Delmon Young' with the body of the e-mail just a link to his stats. I enjoyed it quite a bit. Despite the tone of the email clearly being 'Admit you're an idiot!' I was happy to get an email from someone who has read this blog enough to know I've been very critical of Delmon Young.
Last October, while trying to breakdown what the Twins should do in the off-season to improve the club, I was fairly critical of Delmon and said the Twins
would be wise to keep Gomez over Young.
Was I incorrect to say the Twins would have been better off with Gomez than Young? We'll get to that. But it's worth mentioning yet again that the Twins didn't seem to have a choice between Delmon or Gomez... the Brewers clearly wanted a young center fielder from us for Hardy, something Delmon isn't.
So far in 89 games, Young is hitting .316/.349/.511, good for an .860 OPS to go along with 11 long balls and 70 RBI. His K:BB ratio has improved drastically from last season, going from 8:1 last season to just over 2:1 this year. That's great to see, because that was always Young's weakness, and I really do hope he can continue the trend. However, it's hard to sit here and clearly state that Young has turned a corner. While I do believe he has, it's worth noting that this 89 game sample is quite a bit different than his previous 452 games in the big leagues. Many will say he's finally come into his own and learned the game and is excelling now. I hope that's the case and we continue to see this Delmon as long as he's a Twin.
Gomez, after starting out fairly well in the first month and a half, has been terrible since June and his stats show that. He's hitting just .242/.294/.365 in 65 games this year, which is a .659 OPS. His offense has been as inconsistent as it was while he was here, although he has stolen 10 bases in 12 tries. Young's clearly been a far superior offensive player this season, although their difference in positions means Young should always be a superior offensive player.
Of course, offense is only half the equation. My biggest problem with the Twins playing Young over Gomez late last season was because of how much better the defense was when Gomez played instead of Young. Gomez was among the best defensive center fielders in baseball according to UZR in 2008, as he was more than 17 runs better than the average center fielder, 17.3 to be exact. That same year, Young posted a UZR/150 of -18.6 as a left fielder. In a vacuum, Gomez's defense was about 36 runs better over the course of a season. That's not actually how large the gap was though, because Span was a below average center fielder defensively while he was a fantastic defensive corner outfielder. His sample size in '08 was simply too small to use as a basis for his center field defensive abilities, though. UZR/150 had him pegged at -32.7, but he only made 23 plays in center field all year. Now that Span is playing full time in center, it's much easier to estimate what Span's UZR/150 would have been. He's at 3.4 this year, after sporting a UZR/150 of -11.5 last season in a similar number of plays. We'll just say Span's UZR in center full time in '08 would have been around one run better than the average center fielder, while he was 16 runs better as a corner outfielder. That means in '08, when Gardy chose to play Young over Gomez, he was conceding 51 runs over a 150 game season. That said, if Young was 51 runs better than Gomez offensively, it would be a wash and any decision would be correct. Unfortunately in '08 Young wasn't able to separate himself offensively from Gomez, despite Gomez hitting .258/.296/.360. Young hit .290/.336/.405. Young was about ten runs better than Gomez offensively over 150 games, making Gomez far, far more valuable in '08 because of his position, and the drastic defensive improvement playing him in center field led to.
2009 wasn't much different. Young hit .284/.308/.425, very similar numbers to his 2008 season, while Gomez hit just .229/.287/.337. Defensively, playing Young over Gomez cost the team a little over fifty runs, almost exactly the same amount as in 2008. Young was about 20 runs better offensively in '09, but still the offensive improvement wasn't worth enough to give up so many runs defensively. It seemed foolish last off-season to listen to people calling for Gomez's departure while at the same time claiming Young was going to break out. These fans were simply believing the hype that the Twins brass bestowed upon Young when he first arrived and ignoring the facts.
This season, Gomez has actually been below average in center field, costing the Brewers about a run more than the average center fielder. Because his offense has been so bad, Milwaukee may not give Gomez a ton more at bats this year, which would mean even more limited sample sizes in center. However, I feel safe saying if Gomez plays consistently from now until the end of the year, his defense will end up closer to what it was the last two seasons.
Conversely, Young has drastically improved his defense from the last two seasons. After being 40 runs below average over the last two seasons, Young has a UZR/150 of -5.4. That's a 17 run improvement from last season, but he's still over 5 runs below average defensively. However, a -5.4 UZR/150 paired with an .860 OPS is still good, while Gomez's below average UZR coupled with his terrible offensive slash line makes him nothing more than a bench player.
Luckily, Young decided that his 2010 season was his biggest (having a major raise looming undoubtedly played a major part in that) season yet, and he needed to come into camp ready to play. He shed between 20-30 pounds in the off-season, and he looked like a far more athletic, fit player from the first day of spring training. I've been hard on Young and in my opinion rightfully so. Why did he have to wait until 2010 to lose 20 pounds? He couldn't have come into spring training in 2008 looking like he does now? Of course he could have, he just didn't think he needed to.
For the 2010 season, it's very, very clear that Young will be the more valuable player than Gomez. However, despite a taunting email wishing I would eat my words, I'm not ready to sit here and say I was absolutely wrong. Gomez was more valuable in both '08 and '09, while Young is better this season. Young is going to make more than $5MM next year after another arbitration raise, while Gomez will likely make 700k at most. If Young continues to play at this level the rest of this season and next year, he will be well worth the money. However, if he regresses at all to the '07-'09 versions of himself, Young is going to be nothing more than another overpaid corner outfielder for the Twins.
As a Twins fan I really hope that Delmon has turned the corner and won't take any steps back from here on out, but I can't be certain that's what's going on. When Young is a more valuable player than Gomez for more years over their careers, I will gladly admit I was wrong. Until then, let's continue to watch Young with cautious optimism, and remember that 90 games this year, while the most recent, are still a lot less games than his career numbers suggested, so a regression seems possible. Delmon is young enough where a breakout season and major improvement isn't impossible, so that's why I'm willing to give him the benefit of the doubt and hope this season is a sign of big things to come for the former #1 overall pick. If it is, I will eat my words with a side of crow, please.