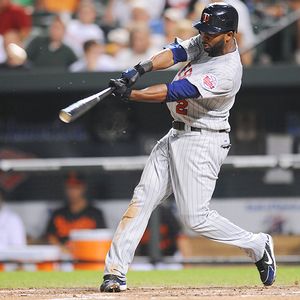 Yesterday, I took a look at Nick Blackburn's early season struggles and ultimately decided there's nothing to worry about just yet, because he's only had four starts. Working off of Blackburn's struggles, today I'll take a look at Denard Span's early season slump and if it's something the team should be worried about as well.
After hitting .294/.387/.432 in 93 games as a rookie, Span continued to excel atop the Twins lineup last year hitting .311/.392/.415 in 145 games. The Twins were impressed enough with Span's performance that they decided, much like with Nick Blackburn, get cost certainty and an option on Span's first free agent year. The extension was worth $14.45MM over five years, with a team option in year six that could make it a six-year, $23.45MM contract.
Much like Blackburn, since signing the extension Span has struggled at the plate, including a scary moment this spring in which he hit his own mother with a foul ball during a game. Span is hitting just .230/.356/.284 in 19 games so far this season, which obviously has fans worried that Span may be regressing to what his minor league track record suggested.
Span hit .287/.357/.358 in the minors, which would suggest about a .275/.345/.340 line in the bigs. Of course, Span's two major league seasons have been far better than that, and almost 1,200 Major League plate appearances are more than enough to create a baseline for one's expectations. It's worth mentioning that Span also had eye surgery prior to his rookie season, and that seems to have made a significant difference in both his approach and plate discipline.
So why is Span struggling so much early this season? While it's impossible to know for sure, if I had to venture a guess, I'd say it's a combination of bad luck and a slump. Over the first month, Span's BABIP (Batting Average on Balls in Play) is just .258. For comparison's sake, Span had a .339 BABIP in 2008, and followed that up with a .353 BABIP in 2009. For someone with Span's patience, a .339 and .353 number are not flukes, although the number is very very good. It's certainly possible that Span isn't as good as his numbers have shown over the last two years, but at this point I tend to doubt that the last two years were a fluke.
The great thing about baseball is that the season is 162 games, so the law of averages will almost certainly even things out over time. Span can't seem to find a hole or catch a break right now, but I'm sure when June or July roll around Span will be getting bloop singles to drop. It's extremely unlikely that Span's BABIP will remain as low as it is all season, and in fact it's much more likely that it will finish the year somewhere between .340 and .350.
Span will more than likely be just fine, and the fact that the Twins are 13-6 with the second best record in baseball and are scoring bundles of runs despite getting poor production from their lead-off hitter shows just how good this team could be. If Span, Blackburn and even Jason Kubel can return to their average level of performance over the last two seasons, this Twins team could win 100 games rather easily. That sounds silly, saying a team could win 100 games 'easily' but as of now the Twins are on pace to win 106 games. If they can get more production from three players they planned on counting heavily on, 100 wins wouldn't be an unrealistic goal for this team to have.